Building Automation
BuildingIT by Baker Group – Integrating Multiple System Protocols
Baker Group is leading the way to true integrated systems. Our commitment to provide complete building systems solutions extends into temperature controls, energy management, security access control, CCTV, IP video, fire alarm systems, parking and revenue controls systems, and data center infrastructure management systems.
Baker Group is the technology expert at automation system design, installation and service. Today there are many commercial and industrial data communication protocols from diverse product manufacturers. Bringing critical data from each protocol together into a single operator workstation saves you time and money. BuildingIT by Baker Group brings "best of breed" products, systems, and technology into a single network. Our engineers and technicians implement integrated building automation systems that reduce construction costs, accelerate schedules, and deliver a high quality automation system to the building owner.
We bring our greatest value when our mechanical construction and building automation teams work together. Our close coordination of mechanical, HVAC, and control systems allow us to take a holistic "systems" approach to design, installation, and service. This delivers high performance, green sustainable, cost-effective systems.
BuildingIT by Baker Group integrates:
Heating, Ventilating, Air Conditioning
Energy Metering & Monitoring
Power Metering & Monitoring
Power Quality
Lighting Control
Variable Frequency Drives
Programmable Logic Controllers
SCADA
Security Access Control
ID Badging Systems
Digital Video Security Surveillance & Analytics
Intrusion Detection
Parking & Revenue Controls Systems
Fire Alarm Systems
To learn more about our Building Automation skills contact Daryld Karloff.
Web Browser Based Demo
Baker Group combines Open Protocol DDC with Java-based products from the Schneider Electric I/A Series to give you a complete building control system, accessible from your intranet or the internet via a typical web browser. (We recommend Mozilla Firefox or Microsoft IE 9.0 or newer). Click on the link below and when prompted, log in as:
User Name = Demo
Password = Baker-1234
(case sensitive)
BuildingIT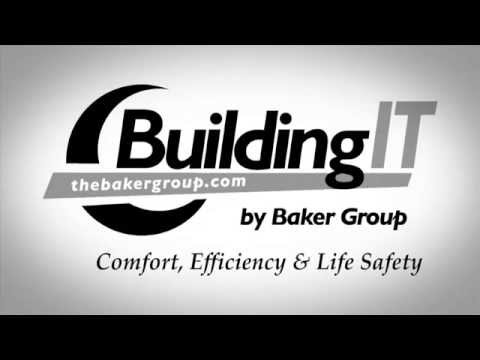 BuildingIT by Baker Group