Baker Group named Top Workplace, Best of Des Moines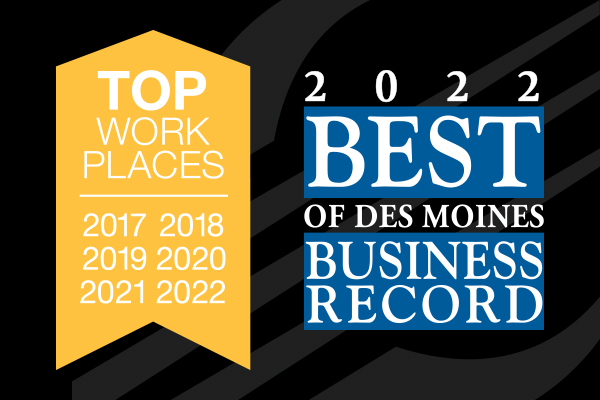 12.01.2022
It's in our motto: Expect the Best®. And year after year, Baker Group is recognized as one of the best.
For a sixth consecutive year, Baker Group was awarded a Top Workplaces 2022 honor by Iowa Top Workplaces. The list, compiled by the Des Moines Register, is based solely on employee feedback measuring 15 culture drivers that are critical to the success of any organization.
Baker Group also earned a number of honors as Best of Des Moines by the Business Record. We were named Best Electrical Contractor, Best Mechanical Contractor and Best Security Company, while also being named a runner-up in Best Company to Work For.
As a Top Workplace, Baker Group was one of 130 companies to earn the honor, being recognized in the group of companies with more than 500 employees.
"One of our core values is Care About People. It's a huge part of our culture," says Gary Bridgewater, Baker Group's CEO. "We want everyone who works for Baker Group to know they are cared for and know their work is appreciated and they are valued. In everything we do, we want our team to feel like they are part of the Baker Group family.
"We are proud to continue to be honored as a top workplace. Six years in a row is an incredible accomplishment."
This was the 16th consecutive year Baker Group has been recognized as the Best Mechanical Contractor. It's the third time it has earned Best Security Company.
The Business Record hosts the contest annually. Nominations are gathered and then readers of the publication cast votes online.
Baker Group previously had been runner up in the Best Electrical Contractor category three times and twice in the Best Engineering Firm category.
About Baker Group
Baker Group is a commercial and industrial specialty contractor based in Ankeny, Iowa. With more than 1,100 employees, Baker Group is the Midwest's premier full-service specialty contractor providing mechanical, industrial, sheet metal, electrical, building automation, process automation, security systems, fire alarm systems, parking/revenue controls and 24/7/365 service. For more information, call 855.262.4000 or visit www.thebakergroup.com.