Arc Flash Studies: No Longer an Option for Industrial Plants & Facilities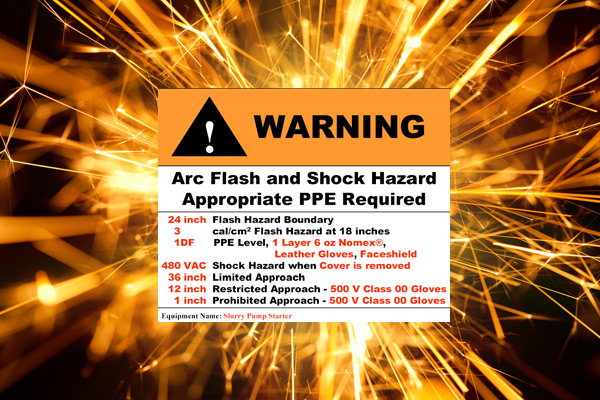 11.15.2016
The National Safety Council reports that electrical hazards such as arc flash cause nearly one fatality each workday – and many, many more injuries.
Because arc flashes routinely claim lives, the National Fire Protection Association (NFPA) mandates that all equipment having 50 volts or more be analyzed and labeled for arc flash risk – and not just once. Repeat analyses are required every three to five years, or any time a power distribution system is modified in a way that could affect arc flash values.
Failure to comply with the current NFPA 70E-2015 arc flash safety requirements can result in first-time fines ranging from $150,000 to $500,000. Subsequent fines increase sharply.
The Risks Posed by a Single Arc Flash
An arc flash is the electrical release of energy hotter than the sun's surface. It can be caused by dust buildup, condensation, accidental buildup, equipment failures, corrosion and other factors, and it can pack the explosive force of several sticks of dynamite.
Imagine the harm that can cause people and property.
Tracy Haus, Safety Director at Baker Group, doesn't have to imagine. A couple of years ago, a friend who worked for another company was severely injured by an arc flash. "He was wearing proper protection equipment, but ended up in a chemically induced coma for more than a month. The impact to him and his family was devastating," Haus says.
Arc flashes can also damage equipment and facilities, disrupt business and result in legal liability, increased insurance premiums and large fines.
Complying with Regulations & Mitigating Risk
"There are several critical steps leading up to the arc flash analysis, beginning with a one-line diagram, and continuing through fault current calculations and selective tripping," says Jack Alsted, Senior Electrical Project Manager for Baker Group. "The analysis is then performed by a registered professional engineer using specialized software, which calculates the arc flash risk."
Haus adds, "Labeling equipment with its arc flash risk alerts workers and others to the hazard and the protective gear they should be wearing when working on or near that equipment." Protective gear includes arc flash suits appropriate to the risk as well as protective gloves, face shield and pants. By conducting a thorough arc flash study, we can often identify and mitigate issues to reduce the risk of harm to people and property.
Are You in Compliance?
Updates to the original, 2002 NFPA 70E: Standard for Electrical Safety in the Workplace requirement have made regulations increasing clear – and increasingly strict.  You can purchase the current NFPA 70E - 2015 requirements in a variety of formats from the NFPA. Or you can call Baker Group's electrical business unit at 855-262-4000.
About Baker Group
Founded in 1963 and with more than 600 employees cross Iowa, Baker Group is the Midwest's premier full-service specialty contractor providing mechanical, sheet metal, electrical, building automation, process automation, security systems, fire alarm systems, parking/revenue controls and 24/7/365 service. 
Best Mechanical Contractor 2021