On the Set: MCAA Video Crews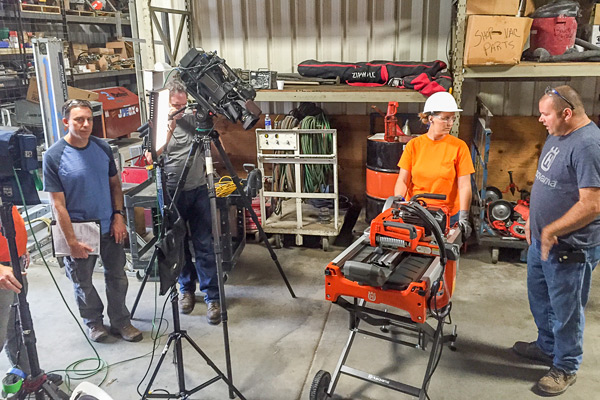 11.14.2016
This past September, production crews for the Mechanical Contractors Association of America (MCAA) spent two days at Baker Group filming its newest safety video on the silica dust standard. And it's not the first time that directors and videographers have converged here: Baker Group has been the set for nearly a dozen safety training videos since 2008.
"MCAA produces up to three 10- to 15-minute safety videos a year. These are very high quality productions," says Tracy Haus, Baker Group's Safety Director who also serves on MCAA's safety board.
"Once we have MCAA's script for a video, it takes about a week to coordinate all the necessary personnel, facilities, job sites and everything else that's needed," he says.
Haus adds that it's worth the effort: "We feel strongly about safety training. Because Baker Group has the right facilities and the right people to support these productions, we're happy to make them available to MCAA."  
Other MCAA safety training videos filmed at Baker Group have included NFPA-70E (arc flash), working in confined spaces, welding, and an orientation video for Mechanical Contractors Association of Iowa (MCAI).
About Baker Group
Founded in 1963 and with more than 600 employees cross Iowa, Baker Group is the Midwest's premier full-service specialty contractor providing mechanical, sheet metal, electrical, building automation, process automation, security systems, fire alarm systems, parking/revenue controls and 24/7/365 service. 
Best Mechanical Contractor 2021