Too Hot for Employees' Health?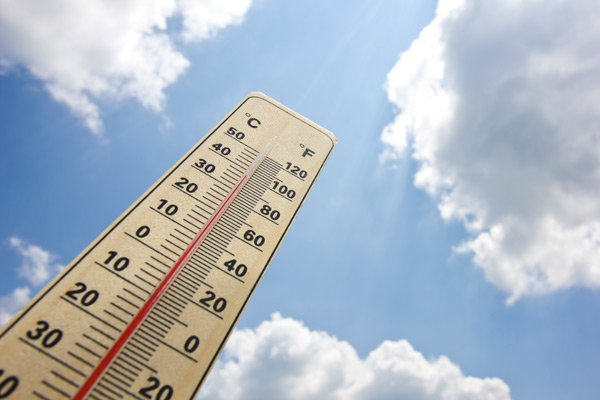 07.06.2016
Heat-related illness is a significant problem – especially for workers who are exposed to high air temperatures, radiant heat sources, high humidity or strenuous physical activities, or who wear heavy or non-breathable protective clothing.
Heat-related illnesses can even be life-threatening. Therefore, it's important to know the signs and symptoms:
Heat stroke occurs when the body can no longer regulate its core temperature. Signs include confusion, fainting, seizures, excessive sweating, red and dry skin, and/or very high body temperature. Heat stroke is a medical emergency. Call 9-1-1 immediately.
Heat exhaustion stems from heavy sweating. Signs include headache, nausea, dizziness, weakness, irritability, thirst, fast heart beat and/or cool, moist skin.
Painful heat cramps are caused by the loss of body salts and fluid due to sweating.
Heat rash or prickly heat is caused by sweat that does not evaporate from the skin.
How to Prevent Heat-Related Illness
Check the weather forecast regularly – and know what to do when the heat and humidity pose danger to your employees' health. Keep this Heat Index tool handy (click on links for more specific protective measures).
Heat Index

Risk Level

Protective Measures

Less than 91°F

Provide adequate amounts of drinking water in visible, accessible locations
Ensure that medical services and supplies are immediately available

91°F to 103°F

In addition to all measures above:

Alert workers to anticipated heat index
Brief workers of signs and symptoms of heat-related illness
Remind workers to drink small amounts of cool water often

103°F to 115°F

In addition to all measures above:

Actively encourage workers to drink small amounts of water often
Have someone who is very familiar with heat-related illness onsite
Establish/enforce work/rest schedules
Adjust work activities to minimize risk
Take added precautions

Greater than 115°F

In addition to all measures above:

Reschedule non-essential outdoor work for days with reduced heat index
Move essential outdoor work to the coolest part of the work shift
Stop work if essential control methods are inadequate or unavailable
Source: https://www.osha.gov/SLTC/heatstress/#hot
To learn more, please refer to OSHA's Heat-related Illnesses and First-Aid chart.
About Baker Group
Founded in 1963 and with more than 500 employees across Iowa, Baker Group is the Midwest's premier full-service specialty contractor providing mechanical, sheet metal, electrical, building automation, process automation, security systems, fire alarm systems, parking/revenue controls and 24/7/365 service.
Best Mechanical Contractor 2021