A New Day in Advanced Manufacturing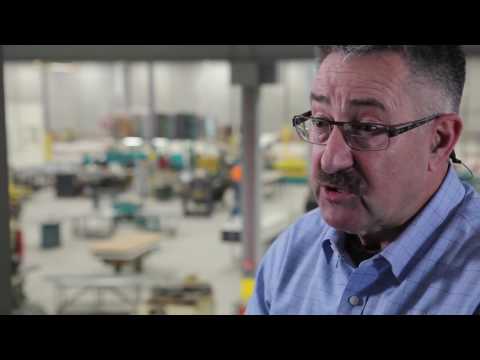 06.19.2017
Baker Group's sheet metal, plumbing, piping and electrical controls prefabrication teams recently moved into a new facility in Ankeny. Much more than a "shop," we call it Baker Group Advanced Manufacturing – after all, it is really advanced.
As shown in our video, "Advanced Manufacturing: The New Construction Revolution," the new facility is 80,000 square feet with almost 9,000 sq. ft. dedicated to multi-trade prefabrication alone. This brings more capabilities and value to clients, and more than doubles Baker Group's production capacity.
"The dynamic of the entire construction industry today is built on quality and speed. With this facility, we can prefab ahead of time in a controlled environment, which improves quality while reducing labor costs. We can then deliver just-in-time to the job site to accommodate condensed project schedules," says Tom Wengert, Vice President of Baker Group's Sheet Metal business unit.
Customized Metal Fabrication
Since Baker Group's foray into sheet metal fabrication back in 1975, the company's metal fabrication business has steadily grown. The company moved into a 50,000 sq. ft. building in 1998, and this year Baker Group further expanded with its move into a 144,000-sq.-ft. office and manufacturing facility at 1600 SE Corporate Woods Drive in Ankeny.
With this expansion, Sheet Metal's manufacturing space grew 145 percent, which accommodates better processes, new equipment and more workers.
"We've streamlined work flow. For example, we upgraded our rectangular duct fabrication machine (Iowa Precision De-Coil Line) layout from a U-shape to a straight-line. This allows us to bring raw goods in one side of the building and send finished product out the other," Wengert says.
Other new equipment upgrades include:
Overhead cranes for handling and rigging raw goods and manufactured product.
A new 250-ton Accupress CNC back gauge press brake, which increases forming accuracy and capacity of material thicknesses.
An IMCAR Universal Angle Roll / Bender Machine that can bend all kinds of metal pipe and angles into companion flanges, rings, railings or other pre-fab systems.
An IMCAR 12-foot Power Roll, which can roll up to 1/2-inch thick mild steel.
Specialized individual welding booths with exhaust venting extraction arms.
Better LED lighting along with overall air quality improvement – all helping improve production.
The sheet metal manufacturing facility can also accommodate as many as 75 craftsmen on a single shift, who provide:
Ductwork and fittings for heating, ventilation and air conditioning systems.
Architectural and specialty metal fabrication – custom design and fabrication of various metal items intricate ornate work. "It's rewarding to be able to replicate existing architectural features. It's an art, and our craftsmen are very skilled at it," Wengert says.
Industrial metal fabrication – design, layout and fabrication of heavy gauge metal pieces of all shapes and sizes.
Metal work in various thicknesses and gauges – stainless steel, copper, aluminum, black iron, galvanized steel, pre-finished, PVC coated, paint grip, perforated metal, expanded metal and more.
Customized Mechanical and Electrical Fabrication
Baker Group's Advanced Manufacturing also encompasses the design/build of piping, plumbing and electrical control panels.
"In our previous space, our mechanical prefab crew size averaged seven, and could not be more than 12. Now we can easily run 20 workers in here. We've more than doubled our footprint," says Rob Cross, Baker Group Mechanical Operations Manager.
Adding to the productivity gains, Baker Group has invested in new tools, including:
Soil pipe snap cutter – provides a fast and easy way to cut cast iron soil pipe.
Plasma table – cuts up to a 1.5-inch steel plate.
Band saw with TigerStop fence system – precision cuts nearly any material with minimal waste.
"Every year we add something new to what we fabricate," Cross says, adding that Baker Group's Mechanical capabilities now includes ASME-rated vessels and components. "We are equipped with the skills, knowledge, equipment – and space – to do this intricate and very strict code welding work."
Electrically, Baker Group has added new manufacturing space for repetitive assemblies that drives cost down. The company also added a UL508A Labeled Electrical Panel Building room.  Cross adds, "We want to be on the cutting edge of fabrication because it really does benefit our clients. With our expanded capabilities, we can do even more, faster and better. We have better tools, equipment and safety features that all enhance our productivity. That should reduce cost for our clients."
Multi-Trade Manufacturing Area
Baker Group has dedicated nearly 9,000 sq. ft. to prefabrication involving multiple trades, which enables trades to work collaboratively in a weather-controlled environment to build to specifications and then ship to the job site.  
"When you consider the hours it takes to build in the field versus in a controlled environment like this, the result is better quality, faster fabrication and installation, and lower overall costs," Wengert says.
Additional benefits include increased safety, reduced onsite labor, less congested construction sites, less jobsite trash, better scrap material recycling, improved quality and better value to the customer.
"We have greatly expanded our ability to deliver what our clients need.  Whenever we can provide better quality and increase value to our clients, it's the right thing to do," Wengert adds.
About Baker Group
Founded in 1963 and with more than 500 employees across Iowa, Baker Group is the Midwest's premier full-service specialty contractor providing mechanical, sheet metal, electrical, building automation, process automation, security systems, fire alarm systems, parking/revenue controls and 24/7/365 service.
Best Mechanical Contractor 2019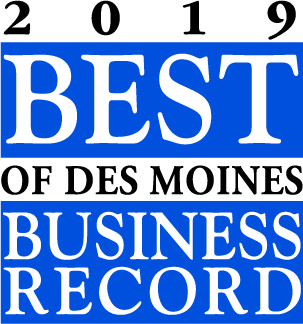 Baker Group was awarded the Des Moines Business Record's Best Mechanical Contractor for 2019!
Runner-up Best Electrical Contractor 2019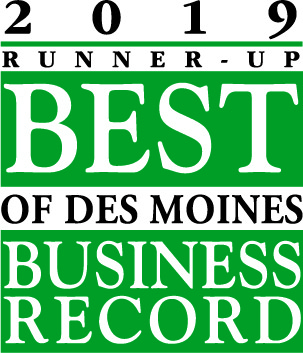 For the second year in a row Baker Group is runner-up for the Best Electrical Contractor.