Augmented Reality: A New Reality at Baker Group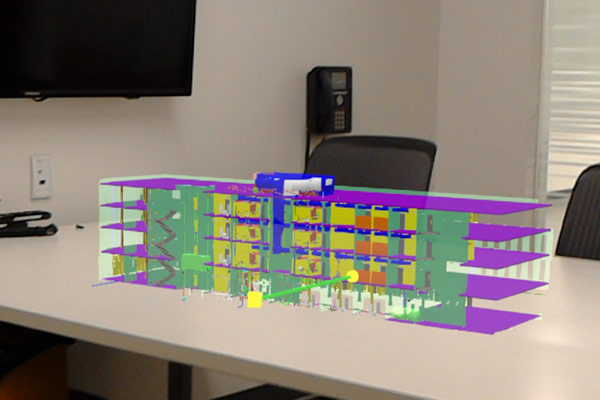 09.21.2018
Once reserved for science fiction movies, holographic 3D images have made their way into everyday construction applications at Baker Group.
Especially beneficial for complex industrial and data center clients, "Augmented reality places a 3D model of the design plan onto our client's existing, real-life space," explains Steve Brommel, Baker Group's Virtual Design Construction Manager.
"Our client, team members and other trades simply look through a HoloLens or use mobile software to see how the plan intersects with reality. It's a game-changer in quality control," Brommel says.
Benefits of augmented reality (AR) include:  
Data is captured and documented
Information is instantly shared with collaborators
Potential problems are detected before prefabrication and construction begin
Saves time, reduces unnecessary costs, improves safety
Facilitates faster, more accurate inspections
How It Works
Logan Richards, Baker Group's Systems Administrator/Engineer, says AR goes hand in hand with building information modeling (BIM).
"Laser scans provide the data that we use for BIM. We then load the BIM model into the AR system, take it into the actual building and see real-time holographic images of the model on top of what's behind the wall or ceiling. There's no technical skill required; it's just a matter of putting on the HoloLens or looking at an iPad," Richards says.
Steve Heathcote, Baker Group's Sheet Metal Detailing Team Leader and Revit/BIM software user is responsible for exporting BIM models to AR. "The biggest benefit is with complex structures or compressed work areas. Rather than looking at a design idea or concept on a computer screen, our clients can see it in their space with images projected into their reality," Heathcote says.  
"Clients Love It"
Last month, Baker Group used AR to present its design plans for a large electrical project on site. Dave Halverson, Senior Electrical Detailer, says, "We created a 3D model of the work we had planned, loaded it into the AR system and took it to the facility to have the client approve the model by viewing it through the HoloLens. There aren't many contractors in Iowa using this technology, so there's a wow factor. Our client was blown away by it."
Shawn Hunt, Electrical Engineering Manager, adds, "In an intricate project like this, so many things can change frequently after construction begins. AR helps assure that we get it right the first time – that's huge. It also increases our opportunities to prefabricate components and assemblies in our Advanced Manufacturing facility, which is especially important when labor shortages exist, such as now."
About Baker Group
Founded in 1963 and with more than 650 employees across Iowa, Baker Group is the Midwest's premier full-service specialty contractor providing mechanical, sheet metal, electrical, compressed air, building automation, process automation, security systems, fire alarm systems, parking/revenue controls and 24/7/365 service. For more information, call 855.262.4000 or visit https://www.thebakergroup.com/.
Best Mechanical Contractor 2021