Expect the Best for Industrial Projects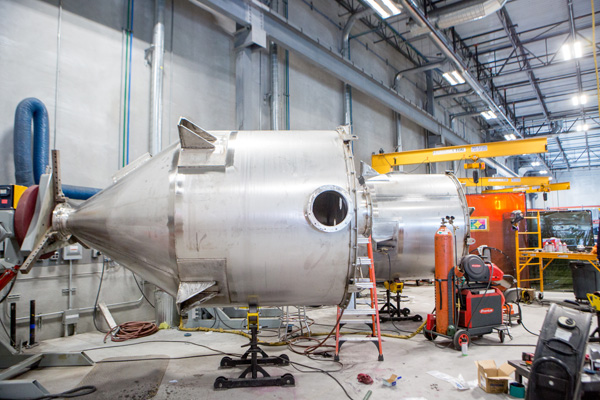 11.19.2018
Industrial construction is not the same as commercial construction.
"Industrial projects typically involve manufacturing processes – process ductwork, piping, electrical and PLC automation," says Jordan Lint, a Baker Group Project Manager. "Industrial services represent a significant portion of our business. Some of our most active industrial markets include food-related, manufacturing and renewable energy."
Fast, comprehensive and high-quality services
Joe Nestvedt , Baker Group's Senior Estimator and Industrial Team leader, says, "For industrial clients, it's got to be fast. We have the resources to jump on whatever they need."
On-staff experts across many disciplines comprise Baker Group's Industrial Team, including Mechanical, Sheet Metal, Electrical, Building Automation, Engineering and BIM/CAD/3D modeling and detailing. "We also have foremen who travel to jobsites nationwide. And we have probably the best prefabrication shop in the Midwest," Nestvedt says.
Baker Group holds specialized certifications that allow fabricating, changing and repairing power piping and ASME-rated vessels:
ASME Certification "S" stamp allows fabricating boiler parts and power piping;
ASME Certification "U" stamp allows fabricating pressure vessels and tanks;
National Board "R" stamp allows repairing or altering existing ASME code-stamped pressure vessels, boilers and piping.
Flexible delivery methods
The typical Baker Group industrial project is turnkey, providing beginning-to-end construction of the facility's mechanical infrastructure.
"However, we can do any piece of the project that a client needs. For instance, we're designing and documenting a project in Louisiana that we will not be contractor for," Nestvedt says. "Whatever the delivery method, we think of ourselves as a partner with our clients. If they're successful, we're successful. That's how we measure success and how we've established long-term customer relationships."
About Baker Group
Founded in 1963 and with 650 employees across Iowa, Baker Group is the Midwest's premier full-service specialty contractor providing mechanical, sheet metal, electrical, compressed air, building automation, process automation, security systems, fire alarm systems, parking/revenue controls and 24/7/365 service. For more information, call 855.262.4000 or visit https://www.thebakergroup.com/.
Best Mechanical Contractor 2021