Going Underground with Baker Group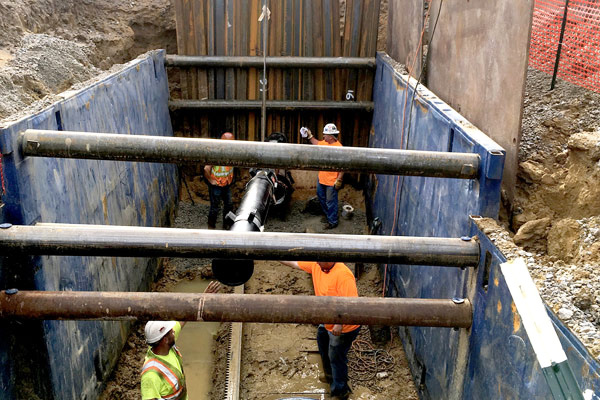 01.08.2018
Few people think about the complex infrastructure that exists beneath commercial buildings, but Baker Group's underground construction team is dedicated to planning, coordinating and executing underground work for:  
New construction – Underground duct work, water mains, sanitary system, storm sewer piping and other small-to-large bore installations are critical to facility operations and, therefore, must be strategically mapped out and skillfully installed.
Gary Dale, who leads Baker Group's underground construction crew, says, "There's enormous value in what our underground team brings our new construction clients," Dale says. "We are the first to show up before the building starts going up. We do ground work, site utilities and building utilities – always keeping efficiency, cost-effectiveness and safety top of mind."
Existing construction – Renewing or upgrading existing underground mechanicals for established buildings is more complex, requiring specialized expertise. "Revenue-producing facilities can't just shut down – we need to get in there and get the job done while minimizing the impact to daily operations," Dale says.
This requires careful planning, scheduling and coordination. A recent example is Rockwell Collins' 1,700-ft. fire main upgrade. "The fire main ran under a building and parking lot, around utilities and in front of the loading dock. Planning our work around our client's need to remain operational required daily meetings and working closely with workers, departments, utilities and others," he says.
Specializing in Emergency Services
24/7/365 service is a Baker Group specialty. "It's common for us to be out working on water main breaks and broken storm or sewer lines on weekends, holidays, even during the Super Bowl," Dale says. "Because we have in-house excavators and operators, we don't have to rely on outside excavating contractors. We get out there, assess the situation and take care of it."
Safety is Priority No. 1
Working underground can be extremely dangerous – particularly where existing structures, cables or utilities exist – and underground hazards can lead to significant construction delays and costs.
Baker Group's site evaluation, assessment, planning and safety procedures minimize these risks. Members of Baker Group's dedicated Safety team are part of the crew, ensuring that OSHA guidelines for excavations and underground installations are rigorously followed and that everyone goes home safe at night.
About Baker Group
Founded in 1963 and with 650 employees across Iowa, Baker Group is the Midwest's premier full-service specialty contractor providing mechanical, sheet metal, electrical, compressed air, building automation, process automation, security systems, fire alarm systems, parking/revenue controls and 24/7/365 service. For more information, call 855.262.4000 or visit www.thebakergroup.com.
Best Mechanical Contractor 2021