The Benefits of Environmentally Friendly Manufacturing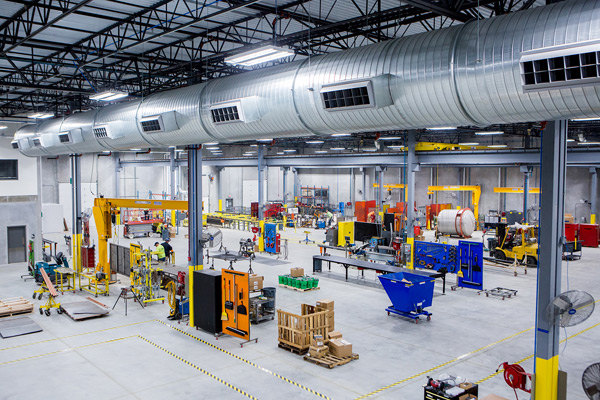 05.14.2018
Multiple studies, including one published by ScienceDirect, confirm the link between environmental conditions and worker productivity. Among the most important factors are temperature, air quality and lighting – all of which were addressed in the design and construction of Baker Group's Advanced Manufacturing facility.
Rob Cross, Mechanical Field Operations Manager, was integrally involved in the facility's design and construction. He says, "Throughout the building's design, we were mindful of providing the healthiest, most comfortable, most productive working environment. Further, a controlled environment leads to better quality and lower costs for our clients."
Controlling Air Temperature
During cold-weather months in Baker Group's previous facility, hot air would blow directly on workers, and cold air would pour into the building each time an overhead door was opened.
In summer, cramped working conditions and inadequate air flow made the environment hot and sticky. "Sometimes, the amount of work we had to do meant working outdoors under tents," recalls Brian Morrissey, Sheet Metal Shop Operations Manager.
To eliminate these productivity obstacles, Baker Group's new Advanced Manufacturing facility includes:
Radiant floor heating. More than 31,000 linear feet of radiant tubing runs beneath the concrete to provide heat to the Sheet Metal, Mechanical, Plumbing, Piping, Electrical, Multi-trade and office areas.
Remote overhead door openers. All overhead doors can be operated by remote controls placed on fork lifts. "Employees no longer have to get off fork lifts to open and close doors. This significantly increases speed and reduces heat loss," Cross says.
Ceiling fans. Construction included four huge ceiling fans in the Sheet Metal area to support summer cooling as well as provide energy-saving destratification in the winter. "These work so well that we're adding two more – one in Receiving and another in the Electrical and Plumbing area," Cross says. Compared to the floor fans used in the previous facility, Morrissey says, "These are a huge improvement. We're not sweating through work all day."
Controlling Air Quality
In Baker Group's former prefabrication shop, exhaust and makeup air systems were inadequate for the amount and type of work being done in the Sheet Metal and Piping areas. "It would get real smoky in the shop when we had multiple weld jobs going on," Morrissey says.
The new Advanced Manufacturing facility features appropriately sized welding exhaust arms at all weld stations and plasma cutting tables, which have dramatically improved air quality. "These are moveable, so they can be positioned directly over the work area," Morrissey says.
Lighting Quality
In a precision-driven manufacturing environment like Baker Group's Advanced Manufacturing facility, having bright, pristine light is extremely important to help employees deliver the highest quality output.
Jack Alsted, an Electrical project manager at Baker Group, says, "Not only is the facility lit by the brightest LED lighting fixtures available, but we also strategically placed light fixtures in a way that eliminates shadows over work areas."
Further, "As part of our commitment to provide exceptional client value, we combined these extremely energy-efficient LED lighting fixtures with smart technology – motion-activated, zone-specific lighting that illuminates only needed work areas. Our new facility is about 50 percent more efficient than our previous plant. When we save money, so do our clients," Alsted says.
A Win-Win-Win Proposition
Cross says having such a well-controlled manufacturing environment is a win-win-win situation: "Workers win because the environment is healthier. Baker Group wins because workers are healthier, absent less and more productive on the job. And clients win because healthy, comfortable employees create higher quality products efficiently, which lowers overall cost for customers."
About Baker Group
Founded in 1963 and with 650 employees across Iowa, Baker Group is the Midwest's premier full-service specialty contractor providing mechanical, sheet metal, electrical, compressed air, building automation, process automation, security systems, fire alarm systems, parking/revenue controls and 24/7/365 service. For more information, call 855.262.4000 or visit https://www.thebakergroup.com/.
Best Mechanical Contractor 2021