Virtual Design Construction Tools in Our Trade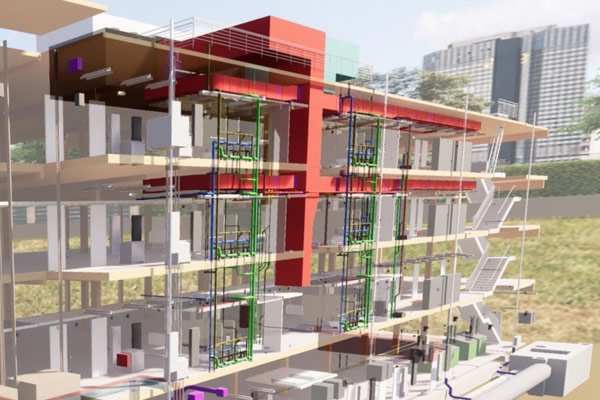 08.14.2018
How does technology help Baker Group do its job? "In today's world, a variety of high-tech tools help Baker Group provide exceptional accuracy, quality, efficiency and cost savings to our clients," says Steve Brommel, Virtual Design Construction Manager. In brief, he describes the technological tools that Baker Group depends on every day:
3D Scanning: Millions of Data Points. Instead of taking measurements by hand on site, 3D scanning digitally captures dimensions using the reflection of laser lights. "This allows us to collect accurate measurements for millions upon millions of points throughout an existing facility. We can then bring them together into one system to produce high-speed scans. These can be viewed by our engineers, our Advanced Manufacturing team, field employees, clients and owners," Brommel says. 
Clients can also maintain 3D scans of their building so, if a mechanical issue should arise in the future, the specs are instantly available. "They can simply call us and we can overnight the needed piece. That process used to take a couple of weeks," Brommel adds.
Building Information Modeling (BIM): Revit Supports Collaboration. BIM is an intelligent 3D modeling system that has long supported Baker Group's planning, designing and construction of Mechanical-Electrical-Plumbing infrastructure. There are numerous BIM software applications on the market but in the construction industry, the most commonly used is AutoCAD. Currently, Baker Group uses Revit software, a much-more interactive and collaborate design tool. 
"Revit allows all trades to work in a single, collaborative model," Brommel explains. Additionally, Revit stores project data in a single database; design changes automatically propagate to other parts of the model. "The result is faster modeling, faster manufacturing of components and faster project completion," he says.
Electronic Construction Documents. Large, fast-paced construction sites can make it difficult to keep everyone on track with the latest drawings, documents and models – and that can cost time and money. Helping Baker Group provide the most efficient and highest quality work possible is BIM 360 Docs and STRATUS software, which delivers the project model and construction documents to the field. 
Having electronic construction documents lets the project team access the latest project information anywhere, anytime and on any device. The team can also create, view, assign and track project issues and markup documents for quicker resolution of construction issues.
Coming Soon – Virtual Desktop Infrastructure (VDI)/Augmented Reality. Working with our in-house IT staff, Baker Group constantly evaluates new hardware and software for more ways to save time, cut costs, improve safety and benefit clients.
Recently, we made a significant investment in VDI server hardware and software to complement our virtual design construction (VDC) employees' local compute power. "Whereas with a physical computer your resources are predetermined, VDI gives us the ability to dynamically assign resources to our VDC employees. Depending on their current workload, we've seen some workflows completed 200 percent faster," says Logan Richards, Systems Administrator/Engineer at Baker Group.
Baker Group also believes that augmented reality will be an important tool in VDC going forward. Using a combination of Microsoft HoloLens hardware and VisuaLive software, we can now project holograms of a virtual BIM model into real space. This allows the next level of BIM coordination, clash detection, real-time quality assurance/quality control and an extraordinary visualization experience that no other contractor in Central Iowa offers.
"When it comes to providing exceptional quality and value for our clients, this new technology will be a game-changer," Brommel says.
Facilities Asset Management: Modeling to Operation. To help owners keep an efficient and operational facility, Baker Group will soon take the BIM model to the next level with BIM 360 OPS. This process incorporates BIM intelligence into a mobile support ticket platform for reactive, preventive and predictive asset maintenance. The intelligence can include important information such as operating manuals, maintenance checklist, scheduled tasks, maintenance history and much more. 
Learn more in next month's edition of Insights.
About Baker Group
Founded in 1963 and with 650 employees across Iowa, Baker Group is the Midwest's premier full-service specialty contractor providing mechanical, sheet metal, electrical, compressed air, building automation, process automation, security systems, fire alarm systems, parking/revenue controls and 24/7/365 service. For more information, call 855.262.4000 or visit https://www.thebakergroup.com/.
Best Mechanical Contractor 2021