2021 Leadership in Workforce Recruitment Award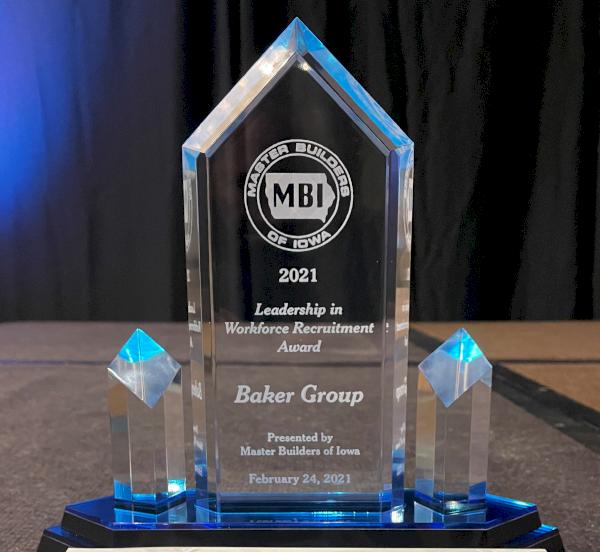 02.24.2021
At the 2021 Master Builders of Iowa (MBI) Winter Conference on Wednesday, February 24, Baker Group was the recipient of the Leadership in Workforce Recruitment Award. This award recognizes the outstanding efforts of companies who are actively engaging in solving our industry's labor shortage.
Baker Group recognizes that there is a skilled-trades labor shortage to support the healthy growth that Iowa deserves. This drives us to increase our efforts and broaden our outreach to bridge this gap.  In 2020, Baker Group expanded our workforce recruitment efforts beyond our foundational programs by hiring a dedicated Talent Acquisition Specialist and Chief Human Resources Officer.
This year, when most companies canceled their internship programs, we pushed forward, despite logistical challenges due to COVID-19.  We also presented the construction trade career opportunities at local middle schools and high schools.  Pre-COVID, we hosted student tours at our office.  When schools went virtual, so did we, continuing to share these excellent career opportunities. 
 "Many Baker Group team members are passionate about sharing the excellent career opportunities available in Construction.  Their dedication shows as they take time out of their busy day to mentor youth and share how our industry is key to supporting our communities," said Cindi Summers, our Chief Human Resources Officer.
We are honored to be recognized for our leadership in construction industry recruiting.
About Baker Group
Baker Group is a commercial and industrial specialty contractor based in Ankeny, Iowa. With over 700 employees, Baker Group is the Midwest's premier full-service specialty contractor providing mechanical, industrial, sheet metal, electrical, building automation, process automation, security systems, fire alarm systems, parking/revenue controls and 24/7/365 service. For more information, call 855.262.4000 or visit www.thebakergroup.com.
Best Mechanical Contractor 2020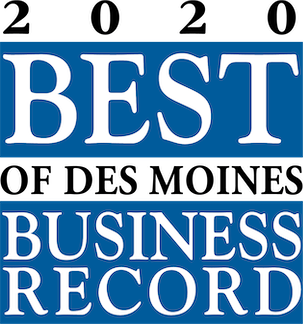 Baker Group was awarded the Des Moines Business Record's Best Mechanical Contractor for 2020!
Runner-up Best Electrical Contractor 2020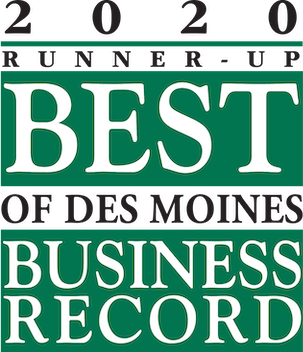 For the third year Baker Group is runner-up for Best Electrical Contractor, and for the first time we were recognized as runner-up for several other categories.
Runner-Up Best Electrical Contractor, Best Large Company with a Bright Future, Best Engineering, Security Company