Baker Group Recognized in Multiple Categories as Best of Des Moines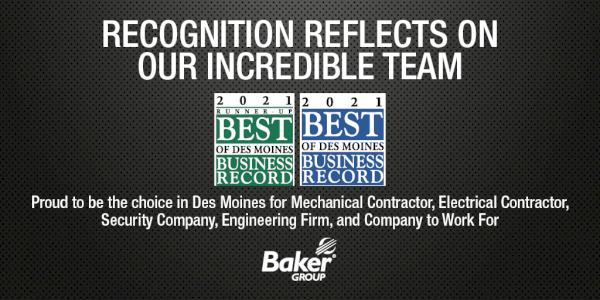 09.28.2021
Baker Group has earned two Best of Des Moines honors in the annual survey held by the Business Record. In addition to the two "best of" nods Baker Group earned runner up honors in four categories.
Recognition as the Best of Des Moines came in the categories of Best Mechanical Contractor and Best Security Company. It is the 15th consecutive year Baker Group has been recognized as Best Mechanical Contractor. This is the second time it has earned Best Security Company honors.
The Business Record hosts the contest annually. Nominations are gathered and then readers of the publication cast votes online. This year's voting concluded on June 4 and the announcement of winners was made September 24.
"We say every day that our clients can 'Expect the Best'," says Baker Group Chairman and CEO BJ Baker III. "To be recognized as the best at what we do, in votes cast by those we serve, shows that our motto carries through everything we do. It is humbling to be recognized for our excellence, especially when you consider we have set the standard in one category for 15 consecutive years."
In addition to the top honors, Baker Group was runner up in these categories: 
Best Engineering Firm
Best Electrical Contractor
Best Company to Work For
Best CEO – BJ Baker
Baker Group has been runner up in the Best Electrical Contractor category three times, and twice in the Best Engineering Firm category. It is the first time Baker Group has garnered honors in the Best Company to Work For and Best CEO categories.
In addition to the Best of Des Moines honors, Baker Group was also recognized in 2021 by the Des Moines Register and Top Workplaces as one of the Top Workplaces in Iowa. Baker Group has been recognized as one of the top 10 large employers – organizations with more than 500 employees – each year since 2017.
About Baker Group
Founded in 1963, Baker Group has grown to become the Midwest's premier commercial and industrial full-service specialty contractor. Baker Group provides commercial and industrial services to clients from offices in Ankeny, Des Moines, Davenport and North Liberty, Iowa. Nearly 900 employees across the state deliver a variety of design-build services including HVAC (heating, ventilation and air conditioning), plumbing, piping, electrical, sheet metal, security systems, fire alarm systems, parking revenue control, compressed air, advanced manufacturing, automation, facility maintenance and operations, and more. For more information, call 855.262.4000 or visit https://www.thebakergroup.com/.
Best Mechanical Contractor 2021