Baker Group Becomes Employee-Owned to Benefit Clients and Employees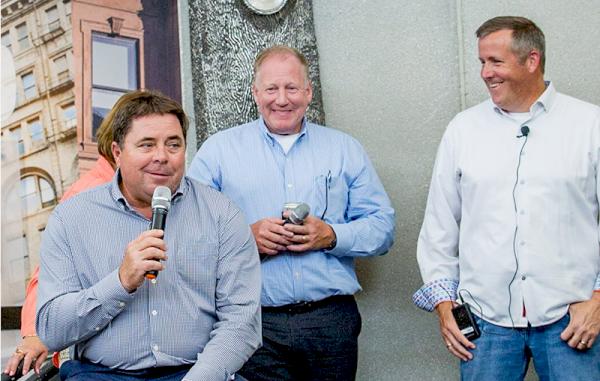 07.31.2019
Baker Group, Iowa's premier commercial and industrial, mechanical, electrical and plumbing firm, announced at an all-employee meeting today that it has become employee-owned. The new Baker Group Employee Stock Ownership Plan (ESOP) gives current and future employees full ownership of the company. Baker Group will continue to operate under the same local business model and management structure.  
Established in 1963 by Bernard "Bernie" Baker Jr. and his wife Berniece in Des Moines as Baker Plumbing & Heating, Bernie passed on leadership to his son Bernard "BJ" Baker III in the mid-1980s. Over the past 35 years with BJ Baker's leadership, the company has grown dramatically. Baker Group has become the Midwest's leading specialty contractor by adding client-requested services such as sheet metal, electrical, automation, fire alarm, security systems and 24/7/365 service. To improve process and reduce production costs, in July 2017 the company moved into a new 142,000-sq. ft. advanced manufacturing facility in Ankeny, Iowa. 
Baker remarked, "Our people are the heart of everything we do at Baker Group. Our employees have worked over the past 56 years to build our business and set the standard for quality, service and client relationships in our industry." He added, "When thinking about succession planning, I wanted to keep ownership with our team and the business in Central Iowa. This is our home and where we want to stay. By making the transition to an employee-owned organization, we are rewarding our employees for their contributions to clients' successes while empowering them to play an integral role in our future."
"This is an exciting day for Baker Group, a milestone that ensures the unmatched culture and business our employees have built will be upheld for the next generation," said Kathy Ladd, Vice President and Chief Operating Officer. "For our valued clients, it means we will continue to attract the best and brightest employees who are passionately committed to proactively serving our clients."
About Baker Group
Baker Group is a commercial and industrial specialty contractor based in Ankeny, Iowa. With over 650 employees, Baker Group is the Midwest's premier full-service specialty contractor providing mechanical, sheet metal, electrical, building automation, process automation, security systems, fire alarm systems, parking/revenue controls and 24/7/365 service. For more information, call 855.262.4000 or visit www.thebakergroup.com.